≡ READ MORE BY NICK
≡ LIBRARY INDEX


LIKE FATHER LIKE SON BOXING HALL OF FAMER STEVE HARRIS HONORS HIS FATHER's LEGACY

by Nick Christophers, Journalist / Author

Nick Christophers Ink Corp.
EMAIL: nickchristophers@rocketmail.com
WEBSITE: http://nickchristophers.org
PHONE: 1-516-662-3688

---


When they say the apple does not fall far from the tree, it could not be truer then when it comes to the Harris family. Steve Harris who has been recently inducted into the Hall of Fame of Boxing learned from one of the best at the sport, his father. From a young boy Steve was taught the ropes of the fight game. Along with his brother they were brought into the ring of fire at the tender age of twelve. His father Lou Harris had over 100 bouts to his record and has coached over a hundred boxers as well.

"My dad inspired me to follow in the boxing game especially as a boxing trainer it's always good to follow in your dad's footsteps in boxing."

Steve's father was his coach and guided him into the Junior Olympics at age fifteen where he was a boxing champion. This led him to being a part of the USA Boxing Team and went to Europe to compete. In his career he had over 250 bouts where his most memorable one was in Havana, Cuba. He was one of the few boxers to beat a Cuban boxer and joined the likes of legends like the Spinks brothers and Sugar Ray Leonard. One of his toughest fights was against former champ of the world Jeff Lacey.

While he was building his career tragedy struck with the passing of his father. Yet hard as it was for him, he was determined to carry on his legacy by also being a trainer. His father was already grooming him to be a trainer around 2004. By using his father's unique recipe, he began training youngsters. Steve's goal was to help kids in the community to change their lives and to create champions at the same time.

His efforts assisted in ridding 100 guns off the streets of his home, Orlando, Florida. In 2006 he began training pro fighters like former IBF Light heavyweight champ Tavoris Cloud and then later Fabiano Pena a Brazilian champion. He also worked with Eboni Justice a former Denver Bronco's Sper Bowl cheerleader now turned fighter.







"It was an honor to see my dad coach Lou Harris get inducted to the Florida boxing Hall of fame for his life time commitment to the sport of boxing and it's so respectful for me to follow in my dad's foot steps to the Florida boxing Hall of fame because it's so rare to have a father and son in the boxing Hall of fame."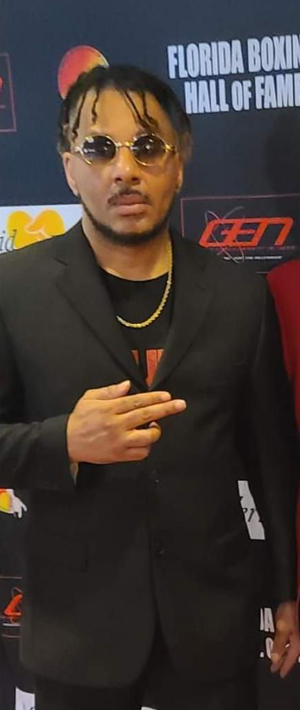 Steve is currently working with Fabiano "Pit Bull" Pena who has moved his weight up to 200 lbs. and won his last bout with a TKO. He is due to win another belt as he had in his native Brazil. Steve and his brother Vincent were soon tagged the "the hard punching Harris brothers". Steve and his father were inducted into the Florida Boxing Hall of Fame two years a part. His father first in 2020 and Steve in 2022 and soon his brother will join them. Steve ending record was 235 wins and 15 loses.

Steve is currently focused on finding justice for his father and is open to penning a book about his father's life. On the business end he is hoping to investigate new ventures along with planning bouts for the former IBF light heavyweight champ Tavoris Cloud vs Jake Paul or Fabiano Pena vs Jake Paul. Either way Steve is on a mission to carry on his father's name while building his own.


---