≡ READ MORE BY NICK
≡ LIBRARY INDEX


WOMAN ENTREPRENEUR AGATHE LIKOBA GROWING HER BRAND GLOBALLY

by Nick Christophers, Journalist / Author

Nick Christophers Ink Corp.
EMAIL: nickchristophers@rocketmail.com
WEBSITE: http://nickchristophers.org
PHONE: 1-516-662-3688

---
In honor of Women's History Month there is one individual who shines the light for women on a large scale. Agathe Likoba has managed to bridge the gap between the middle-class and high-end consumers with her ever-growing brand, LIKOBA. She hails from the exotic land of Cameroon and was raised in France. She has developed not only a cosmetics line but also a prêt-á-porter and haute couture fashion line. We also can not exclude the fact that she once worked with terminally ill patients as a nurse.
Her devotion to offer herself to the community has always been one of her glowing traits. Agathe has been inspired by such legends like Coco Chanel, Sofia Loren, and Jacqueline Kennedy when it comes to fashion. She has put on fashion shows in New York and Europe displaying her growing fashion line that have been extraordinarily successful.

Only recently did she reach a key milestone where her PR team of Idriss Komansky and Aleksandra Potiaskaya managed to have her image splashed across a billboard in Times Square. The art director who designed the billboard was Lassana Samassa. The billboard launched on the 13th of March has generated some buzz for Agathe that will open new doors soon. In another amazing development she was honored as the first black woman to become a member of Greenwich Rotary Club. She has been sponsored by the Rotarty Club and was welcomed as a guest speaker to discuss all her accomplishments from being a nurse for terminally ill patients to raising $4,500 for the Cancer center at Griffin Hospital and the Senior Center. On the club's 100 Anniversary Agathe was welcomed in as a member.

In another new venture Agathe is heading a reality show called Tutoplay by Business Shower. This project is where she will be working as a mentoring coach for young African entrepreneurs with the necessary skills needed to be successful in their prospective projects and business ideas. There are four challengers that she would be dealing with Mary Ntiamoah, Aurelien Zeh, Lionnel Do-Rego and Keth Deoko. Model, Track star, Beatbox artist and Designer. The show will be streaming on various platforms including Netflix and HBO. The coaches involved in this show are experts in the areas of fashion & beauty entrepreneurship, arts, lifestyle, digital, etc.

During the pandemic Agathe expanded her online presence and launched her new fitness jump suits and sunglasses for men. Her boutique was open for limited hours hence she utilized the internet to keep operating. She is currently going to open a second location. The store is due to open full-time on March 20th. On the horizon for Agathe is her post-pandemic Haute Couture jumpsuits Collection which is available for custom design.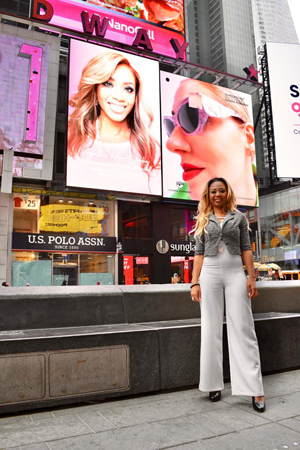 In addition, she is gearing up for her next collection, where she will do a collaboration with iMmOrteL-Paris. The plan is for every jump suit by Likoba there will be a dress version by iMmOrteL-Paris own by Lassana Samassa. The new collection will be presented during Paris Fashion Week, in 2022. She also officially became a part of the THE LUXURY BUSINESS COUNCIL and was invited by Kathryn Minckler and Suzanne Branch. Kathryn Minckler is the leader in luxury marketing of Greenwich CT and Hudson Valley, helping luxury brands to be more creative and profit together. From boutique owner to a billboard in Times Square, Agathe Likoba is growing her brand for the future.
"The Greenwich Rotary Club is a great example and representation of the United States I fell in love with. Warm, welcoming and one focus, caring for others and giving opportunities. I am very thankful for the amazing welcome I received from everyone. It is such a delight to be surrounded by humble, respectful, and truly kind people. It is important for me to lead the way for the generations to come. It is not only about inclusiveness, but I am also a dedicated Philanthropist and businesswoman who represents 3 continents and add value to the club with innovative ideas. There will be more diversity. I absolutely love the dynamic of the Greenwich Rotary Club and President Joe Benoit is really about diversity, equality, and respect. Every member of the Club has been absolutely welcoming and sincerely happy to have me on board. My induction took place on October 28th, 2020."
http://www.likoba.com